About me
Hello everybody, I am Anna. My fascination and passion for Chinese culture and calligraphy has taken me to China, where I spent 20 years of my life honing my calligraphy skills.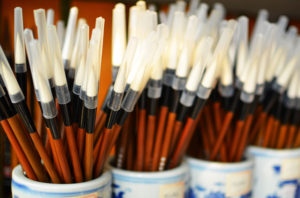 I am a strong believer of the fact that knowledge is only enhanced when shared; and thus I am all set to pass on whatever I have learnt to people who want to make their journey through the beautiful Oriental culture.
Chinese calligraphy is all about writing and appreciating beautiful characters filled with deep meaning and wisdom of the Orient. More than just a craft, it has a deeper meaning attached to it which requires concentration, skill and meditation. As the Chinese say, that a good calligrapher must be a good sword master, there have a lot of common ground. This could help you shoot your concentration up, as well as can be practiced as the sheer pleasure to create out of the world gift items for your near and dear ones.
I can extend my assistance to you in teaching Chinese calligraphy, designing a website, design your outfit or even just share my experiences no matter how it helps you. I could also hand hold you if you need any information on China or Fengshui.
I am just a phone call or an email away from you! I am waiting to hear from you!
Anna